1
Keys Open More than Doors
For Aiden Jennings confidence by day
falls into doubt by night.
In bed, Aiden tosses and turns all night. His mind unable to rest, he contemplates the murder of his fiance Hope. Half sleeping and half rehearsing, he communes with his past sins and possible futures. Aiden can neither shake the devil on one shoulder nor embrace the angel on the other. He's a man conflicted and seemingly without options. He's thoroughly alone.
Morning blooms. The fresh day shows the nightmare no different in the light. He paces and reviews his murder to-do list. He carries the dagger, his weapon of choice. He listens to a lounge cover of "Black Hole Sun" and drinks. Sleep again is on the horizon, but yet unrealized.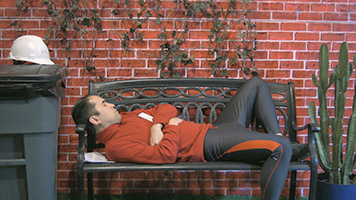 Tomorrow's News:
The receptionist arrives for his first day of work at Value Vision, and finds the waiting room still under construction.
When Bronco tells his parents he's upgraded their anniversary holiday accommodations, they tell him they've decided to call the whole thing off.
Aiden tries to sleep , but on the eve of Hope's murder it proves difficult.