3
The Doctor is In!
Amidst the tarps of construction,
Hope and Aiden try for a quiet night at home,
but can they weather the storm?
At the park, Bronco eats a breakfast burrito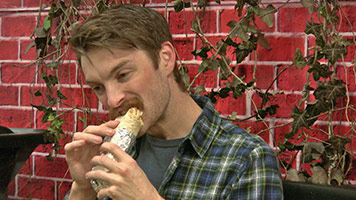 and gets a friend's thoughts
on his parents anniversary trip.
At the Value Vision, work continues. Dr. Charles makes an appearance and fusses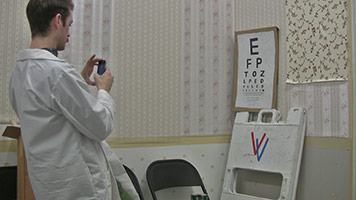 over the placement of the eye chart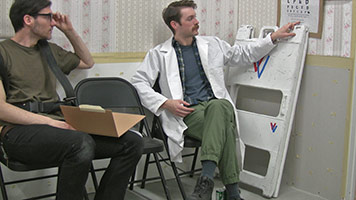 , and the clock
, and just about everything else. The doctor wants to make omelettes for patients on a hot plate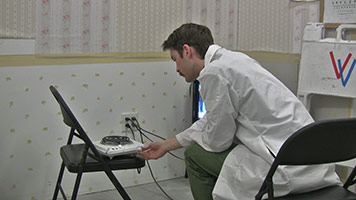 he finds in storage. He and the worker debate the logistics of such an idea. The doctor is impressed at how quickly it gets hot and insists that it would be an asset to the business. After discussing kitchen ware, Dr. Charles convinces the worker to stay
for lunch, his wife's Mexican Lasagna, and watch Days of Our Lives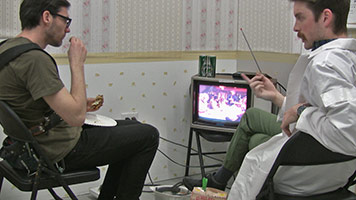 . It turns out the worker is a bigger fan than the doctor could have guessed, and they bond (slightly) over the episode. Then Dr. Charles reveals that he has friends coming in to town occasionally and that they sleep in the basement. He's insistent that the worker seal off the hatch he used to access the room and that no one should ever need to go down there. Meanwhile on Days, more of Rafe's family is reunited but not everyone is happy about it.
Lunching at the park, the workers wonder where their next job will be after Hope and Aiden's house.
Dr. Charles makes a phone call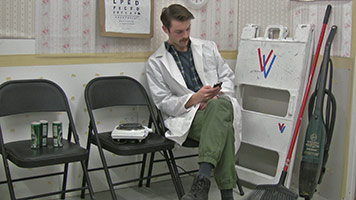 to his contact and admits that people are getting suspicious. He says to meet at the meeting place and that he's coming over now.
The Value Vision is closed but unlocked and a mysterious person enters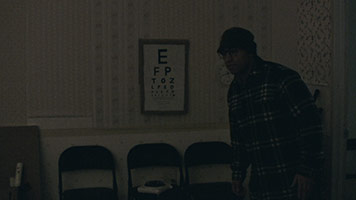 looking for Ned. Shortly after, Ned leads this man down into the basement
and tells him that he has an alarm clock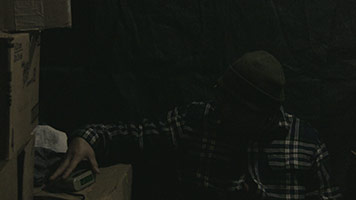 and canned food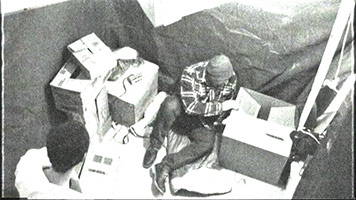 and that he shouldn't leave the room. Dr. Charles promises to come back around dinner time.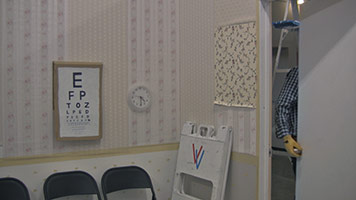 At their house, Aiden feels worthless trying to help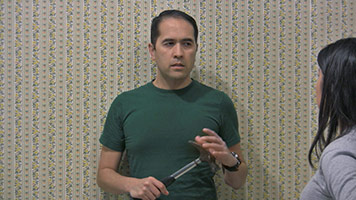 . He tells Hope he wants to talk, but later blows it off as nothing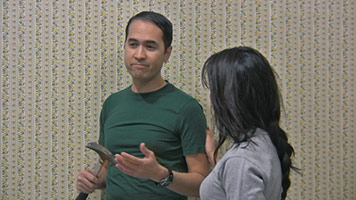 . Bronco calls and Hope learns of their parents upcoming trip being rerouted to Brazil. Hope asks Bronco to work on something for her. With Aiden next to her
, she doesn't say much but promises to email the details. Not wanting to forget, Hope runs upstairs
to email Bronco while she's thinking of it. Just then, Aiden gets a mysterious and threatening call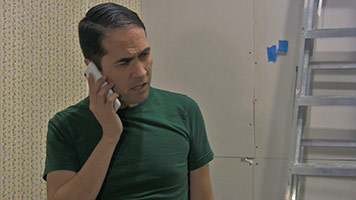 demanding a meeting in the park right away. Putting on a hooded sweatshirt
, Aiden leaves the house. Hope descends to find the house empty.
At Minos Park, Aiden waits impatiently on a bench. One of Stefano's goons sneaks up behind him and puts a knife to his neck. He reminds Aiden that tomorrow is the day.
There's late night activity at the Value Vision. Dr. Charles takes the man in the basement out for dinner. Later the man sits and sleeps which is about all he can do under the doctor's orders to stay in there and not make too much noise.
Returning home, Aiden finds Hope waiting. He's sweaty and out of breath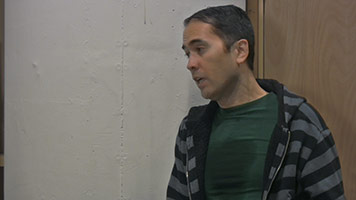 , with the excuse that he's taken up jogging. Hope is skeptical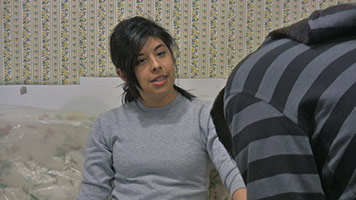 about his "exercising" and "jogging." Aiden suddenly remembers something and runs out. Upon returning, he presents Hope with a wrapped package. Hope rips it open to reveal a cross stitch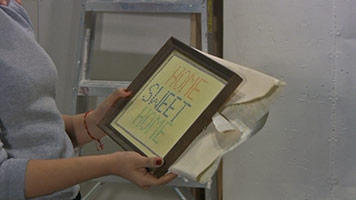 reading "HOME SWEET HOME." Excited by his gift, Aiden hangs it on the wall immediately. Aiden heads up to take a shower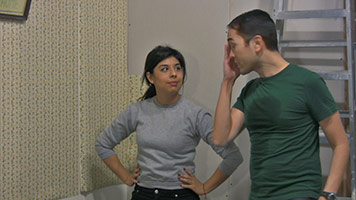 and Hope says she has to make a call.
Tomorrow's News:
Aiden gets a temporary reprieve.
After months of silence, John calls with good news regarding the gold coin.